You will certainly need a sturdy backpack for school or work if you carry a lot of bulky stuff like books, computers, or other supplies. Although many robust backpacks are available, not all are environmentally friendly.
We may pack our daily necessities in environmentally safe and sustainable backpacks while leaving our environmental problems at home.
Most people like their bags to be fashionable in addition to being utilitarian. But finding a bag that is manufactured under ethical conditions—a bag that is considerate of its creators and the environment—is what matters most to us.
Backpacks have become increasingly necessary with the growing population making the industry worth billions in US dollars. In 2021 alone, retail sales of backpacks in the US reached $3.1 billion, with many people insisting on eco-friendly options.  
The best examples of sustainable backpacks for a safe and healthy environment will be examined in this article. These bags are created ethically and give back to under-served communities.
They come in various volumes and have a variety of compartments, so you can easily transition from the weekday to the weekend with them. Here are some of the most sustainable backpack brands. 
Also read: Reasons Why Eco-friendly Products are Important
13 sustainable Eco-friendly backpacks
1. Gulu made 
These sustainable backpacks, which are "deliberately over-engineered for organization," are made for comfort and versatility with contoured and ventilated back panels and naturally curved shoulder straps. They also come with a padded laptop sleeve and a fake bottom to protect against drops.
Each eco-friendly backpack aids in creating sustainable employment for women in a nation with few options for safe employment. The backpacks are designed in Boulder, Colorado, and handcrafted in Gulu, Uganda.
In the past, women in Gulu received sewing instruction following the civil war, but there are still few possibilities to put these talents to use. Consequently, GULU chose Uganda even though it seems odd for manufacturing.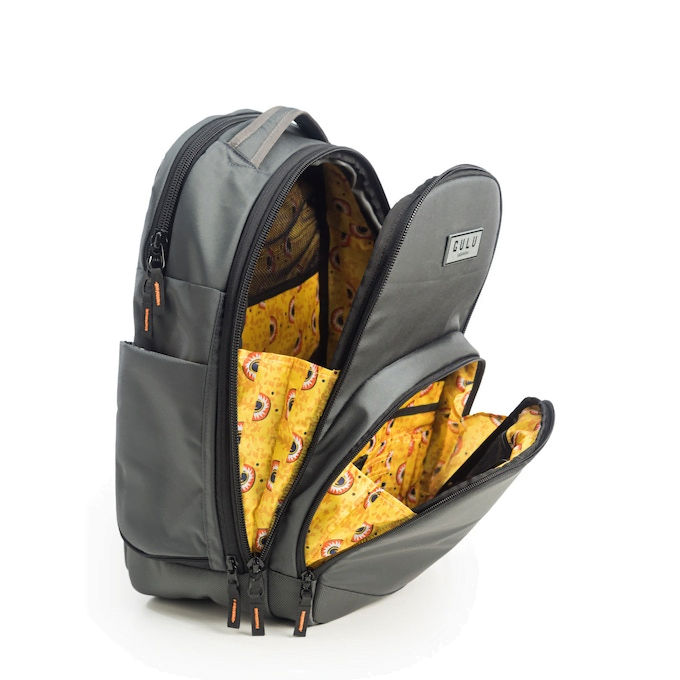 2. Jord
JORD is a United States-based company that sells gorgeous fashion pieces like wristwatches and sunglasses in addition to vegan, environmentally-friendly backpacks for fashion enthusiasts.
Their primary goal is to produce sustainable items that efficiently complement contemporary living. Their backpacks are exquisitely made and come in three vibrant colors.
Jord utilizes Suberhide, a natural Portuguese cork leather marketed as "the world's most resilient luxury fabric." It has a thick leather-like feel, is strong and textured, highly elastic, and will hold its shape no matter what you do.
The material is naturally water-resistant, stain resistant, and easy to clean with mild soap and warm water, making cork a sustainable fabric.
Cork is one of the best natural vegan materials available today when it is produced in the most sustainable manner. Cork can lower greenhouse gas emissions, and cork trees don't need hazardous pesticides, trimming, or upkeep. 
The Forest Stewardship Council has certified all of JORD's cork (FSC). Portugal's cork is responsibly harvested, and Jord combines vegan leather with cork to give the bag a little more refinement. This shows that the company engages in green business practices. 
JORD has collaborated with numerous neighborhood nonprofit organizations, including the Missouri Coalition for the Environment, Perennial, Operation Food Search, and Brace for Impact.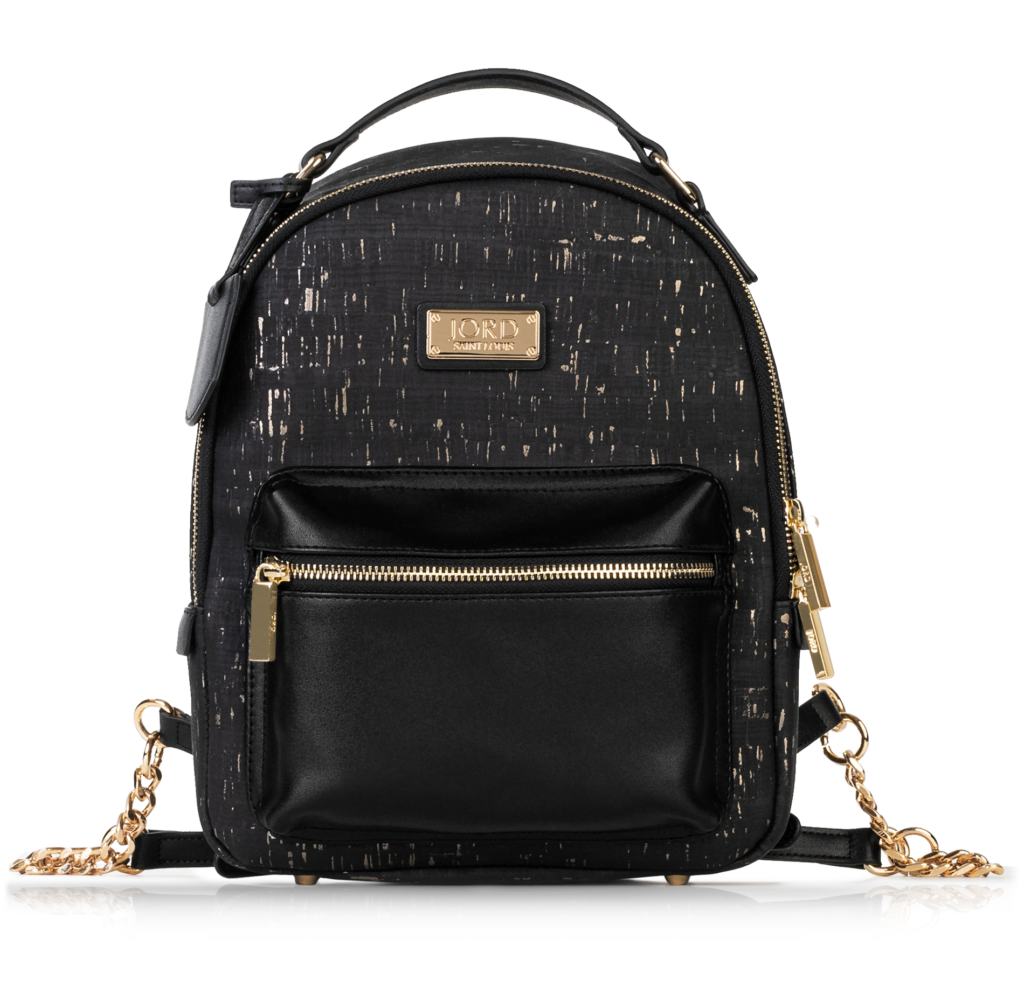 3. Hozen
Hozen, which translates to "conservation" in Japanese, was established by Rae Nicoletti, a leather craftswoman. She formerly worked for Hermes and now produces a stunning line of apparel, totes, buckets, and sustainable vegan backpacks. This backpack's modest weight and strength are ideal for a laid-back outdoor day.
Piatex, a leather manufactured from pineapple leaf fibers, and Bio-Poly oil, an environmentally friendly polyurethane derived from grains, are used to make Hozen's high-end eco backpacks. 
Also included in their materials list are recycled plastic or organic twill lining, zippers, and thread made entirely from post-consumer recycled plastic, natural rubber, leftover rope, recycled cotton labels, and vegan glue.
Each sustainable bag is created in small batches with little waste, is 100% free of animal products, and is PETA approved. Their entire line of bags is locally created in Los Angeles, California. 
All of their business partners follow strict moral manufacturing standards. The workers who make each product are treated with the utmost respect, as they make everything in smaller batches.
Hozen is a woman-owned company that uses recycled and eco-friendly materials in all of its production, pays its employees a livable wage, and gives 10% of its profits to Mercy for Animals.
Additionally, they try to avoid trash and use carbon offsets to lessen their environmental impact. When shipping their sustainable backpacks, the company uses recycled packaging. 
4. Terra thread 
Terra Thread makes fair trade, eco-friendly backpacks suitable for use at school, work, or even while traveling. They are long-lasting and come in full and mini sizes, making them the ideal option for green kids' school backpacks.
The heavy-duty 12 oz. organic canvas used to create the Earth Backpack is solid and roomy. It has a more significant-sized pocket on the exterior and a smaller one inside making it an ideal fashion piece. 
Additionally, there are two side pockets for your reusable water bottle and a laptop compartment. The backpack is not suitable for school alone; it may also serve as a comfortable daypack for hiking or brief overnight vacations.
All the cloth they use is ethical and obtained sustainably to guarantee the safety of the farmers throughout the production process. More than 100 million rural households produce cotton in over 75 counties, making it a significant industry. Farmers who grow regular cotton utilize GMOs and essentially have no option as to where they purchase it.
With the help of Fairtrade, Terra Thread works to protect the environment, ensure that child labor is not an issue, and ensure the health and safety of the farmers. In addition, gender equality and climate change are addressed by fair trade.
In addition to supporting Feeding America's network of 200 food banks to help provide wholesome food to children, families, and seniors in the US, The Earth Backpack is also carbon-neutral, as you can see directly on their website.
5. Tentree 
Tentree is marketed as a 4-in-1 sustainable backpack that can handle any situation. It has a spot for your water bottle, can carry up to 40 ounces, and the strap will keep it securely in place. It is fashionable, has a hidden side pocket you can use for your phone, and is "comfy as Hell," according to one review.
Their ethically produced backpacks are constructed in Vietnam after being designed in Canada. Each one of Tentree's goods is obtained responsibly. 
Following Tentree's Ethical Code of Conduct, the company forbids the use of forced labor or children as enslaved people and calls for fair wages, safe working conditions, reasonable working hours, and a lack of discrimination. All partner factories uphold the highest standards. 
You can visit their factories' interiors via a drop-down menu on their website called The Factory Ledger. Ten trees are planted by Tentree, a B.Certified Corporation, for every product sold.
By 2030, they hope to plant 1 billion trees, having already planted over 56 million to date. Let's help them reach that goal! They have also promised to eliminate all plastic by 2023.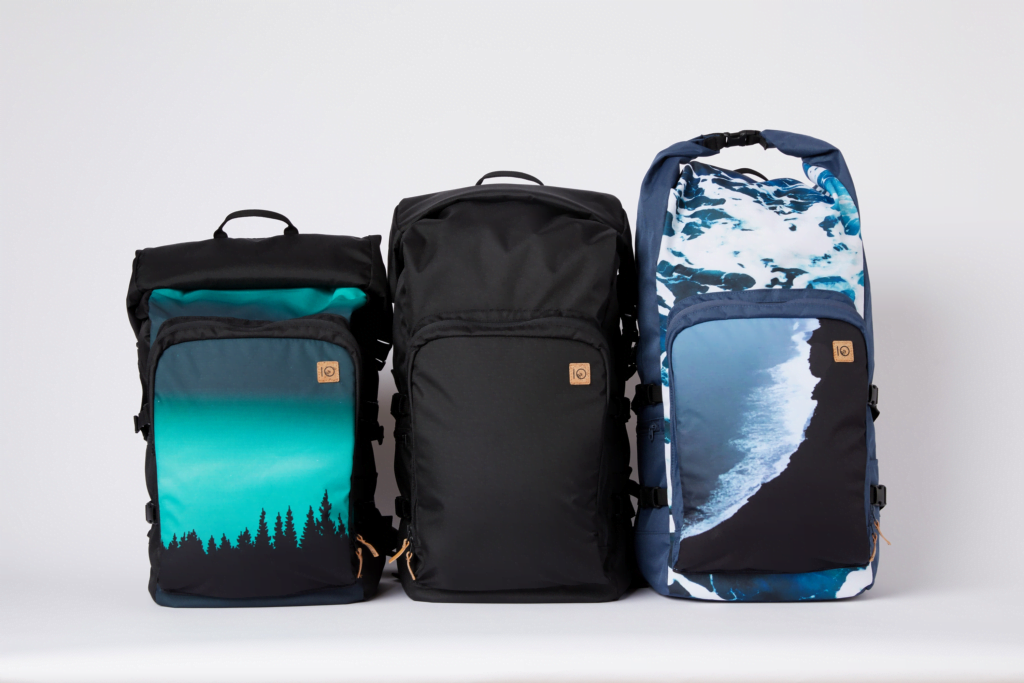 6. 8000 kicks
This Portuguese company also sells a totally natural sustainable bag in addition to recycled shoes made from hemp, recycled rubber, and algae.
The Everyday Backpack combines a simplistic appearance with smart utility and style. It is available in numerous chic tri-color block styles.
They have a 15-inch laptop pouch and an inbuilt USB port, are 18L, and can extend to 30L. These packs are water resistant without the use of PFCs because hemp is naturally water resistant.
8000kicks has its manufacturers situated in Portugal and China. The fact that an 8000Kicks representative is based in each factory encourages frequent inspections. The employees of the Portuguese factory have access to free healthcare and education.
The companies in Portugal and China use, respectively, 50% and 40% sustainable energy, and 8000Kicks collaborates with them to maintain raising this percentage. 8000Kicks is a vegan company that never makes shoes or backpacks out of leather. 
This indicates that their shoes and backpacks produce a fraction of the carbon emissions that leather shoes do. Through hemp farming and tree planting, they offset all emissions entirely making them one of the most sustainable brands.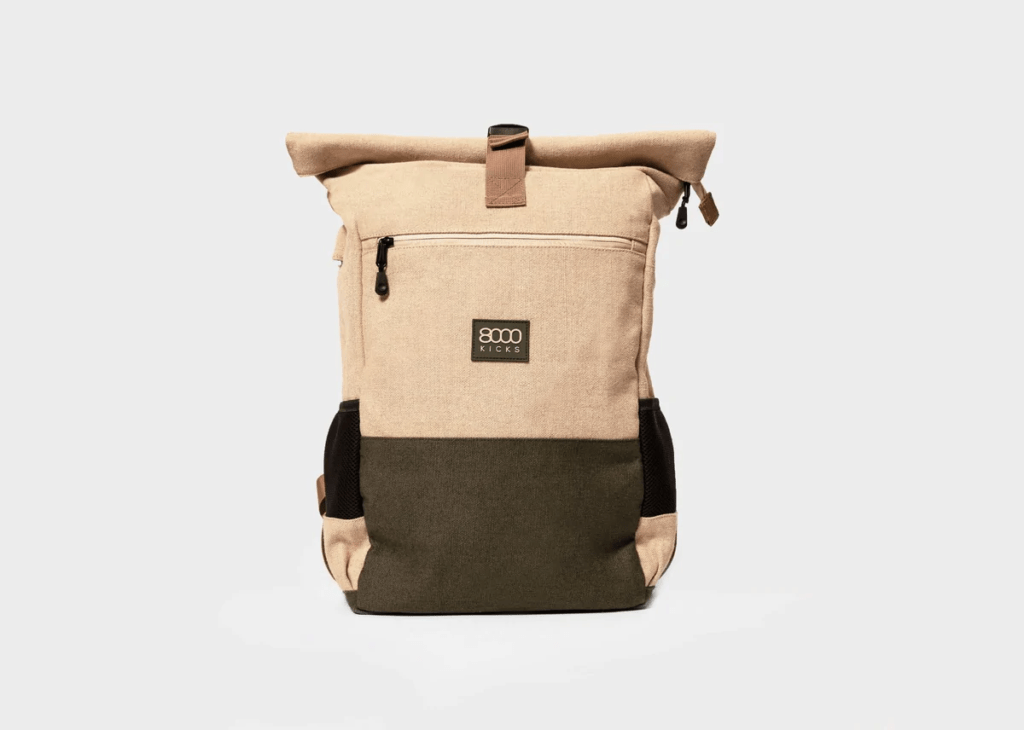 7. United by blue 
When it comes to environmentally friendly swimwear and clothes, United By Blue checks all the boxes. They remove one pound of trash from the ocean for each item purchased from their website. One of their top environmentally friendly backpacks available is (R)evolution.
These can be used in rocky areas, as well as in offices and schools. Additionally, they have pockets and other storage spaces that you might need. 
Your bag will be incredibly durable because all (R)evolution backpacks are built with sustainable materials such as recycled nylon and polyester from plastic water bottles. Exactly what we desire! They are built with style to endure. Their (R)evolution goods also withstand daily use and abrasion without shedding microfibers because they don't need to be washed.
There are many incredibly fascinating textiles used by United By Blue, including Hemp, Tencel, organic cotton, MicroModal, and many more.
The Fairtrade backpacks are skillfully crafted in Vietnam using only the finest materials. Additionally, the facility is in charge of processing the recycled polyester into long-lasting, robust packaging. Every factory has GOTS, OCS, and fairtrade certifications.
They are also working to eliminate all plastic from their corporate operations as part of an internal initiative dubbed "We Quit Plastics."
8. Day owl 
With its simple 100% recycled backpacks, Day Owl gives you "everything you need, nothing you don't." They consist of a large main compartment, a padded laptop sleeve, a bottle pocket that resists spills, a floating top pocket, and a front pocket. 
The Backpack and the Slim Backpack are the only two sustainable laptop backpack styles, but thanks to their variety of colors, you're sure to find one that matches your personality. The environmentally friendly backpack bodies are constructed from First Mile waxed canvas, which is created entirely from recycled plastic bottles.
This is complemented with a liner and trim made entirely of recycled polyester, a laptop sleeve made of algal foam, water-repellent neoprene, and conflict-free metal YKK zippers.
To achieve complete circularity, they either clean and repair the recycled bags for resale or salvage them for components and materials. Get on the queue to be informed when these few pre-owned batches become available. Their in-house backpack recycling and repair takes place at their Pittsburg, Pennsylvania, workshop.
9. Vaude
The Canadian company Vaude creates sustainable backpacks for hiking, skiing, and other activities, urban bags, cycle bags, and ecological backpacks. For 40 years, they have been producing eco-friendly backpacks.
Since 2001, Vaude has adhered to the same environmental bluesign standard, which regulates every step of the textile production process. They were also the first outdoor business to obtain EMAS accreditation, which improves a company's 'green' image while increasing its environmental performance via transparent and verifiable reporting.
Vaude uses a fluorocarbon-free coating that is waterproof, making it completely PFC-free. PFCs have been identified in our drinking water, polar bear blood, glaciers, and breast milk on every continent in the world. Additionally, the complete Mountain Backpack Collection is PVC-free.
Recycled polyester is among the sustainable fabrics that Vaude employs in making bags, helping to cut down on trash in landfills.
Hemp is an extremely hardy plant that grows with little to no water, no fertilizers, and no pesticides. The stalks are where the fibers are found and then spun into solid fabrics. Hemp is an excellent and sustainable fabric for outerwear since it is inherently anti-bacterial.
10. Patagonia
Patagonia offers several environmentally friendly and sustainably made backpacks under the sun. Rock climbing, trail running, mountain biking, fly fishing, hiking, surfing, and alpine climbing all have specialized backpacks.
They also provide vegan backpacks, women's backpacks that are sustainable, waterproof backpacks that are sustainable, and even casual backpacks. All of them are built to last!
Patagonia uses a wide range of materials in all of its goods, including ethically produced backpacks that are sustainable and good for the environment. You should look them up if you enjoy outdoor exploration.
Their clothing is made entirely of naturally farmed virgin cotton. This season, 64% of their fabrics are manufactured from recycled sources. In order to become Regenerative Organic CertifiedTM, they are funding more than 550 organic cotton farms.
They employ hemp in 37 different product styles this season. Currently, less than 0.1% of the world's fiber market is made up of hemp.
The NetPlus material is created entirely from recycled fishing nets that have been gathered from South American fishing villages. To assess and lessen the environmental effects of producing Patagonia products, they also rely on their Supply Chain Environmental Responsibility program.
Their Supplier Workplace Code of Conduct mandates that their suppliers abide by all laws in each of the nations where our factories are located. It is based on the core labor norms of the International Labor Organization (ILO).
11. Solgaard 
The Artemis, Hustle, Packable Daypack, Shore-Tex Daypack, and many iterations of their best-selling Shore-Tex Lifepack are among the range of eco-friendly bags they provide.
These eco bags have an integrated solar panel, power bank, anti-theft lock, and an optional integrated solar-powered boombox. These bags are great fashion pieces and also help to save the environment. 
It also has a "suitcase seat belt" to fasten it to the handle of rolling luggage, a drop-proof laptop sleeve, a semi-rigid flat bottom so it can stand upright, a wipe-clean water-resistant bottom, and an integrated USB connection for on-the-go charging.
The environmentally friendly Shore-Tex and Artemis backpacks from Solgaard are Sustainable since they are entirely constructed from recycled ocean-bound plastic.
Shore-Plast, a recycled ocean plastic, is also used in the construction of the solar boombox enclosure. To ensure that their items experience a very long life of adventure, Solgaard offers a 10-year warranty on every product. Additionally, they are aiming for carbon neutrality.
12. Mariclaro
Since 2008, the Mariclaro brand has produced environmentally friendly backpacks for use at the workplace and when biking. This Canadian company set out with a challenge: to create innovative, high-quality designs utilizing recycled materials, and they have succeeded.
The Satellite and the Mariclaro are the two types of backpacks available under the Mariclaro brand. Both designs are handcrafted in Canada and come in a variety of colors.
Recycled materials are used to create each sustainable Satellite backpack. It is a part of their 1.5 Diversion collection, which is made from waste that was once destined for the landfill. The leather is manufactured using scraps sourced in Toronto.
The straps of the Satellite Melange backpacks are constructed from recycled seat belts from automobiles and are made of patina-rich Black Angus aircraft leather from Air Canada's Boeing 777 aircraft. Each bag has a specific, limited design with a unique narrative.
This company uses repurposing clothing and other items that would have been discarded. They are keeping a lot of rubbish out of landfills by using recycled materials. Mariclaro was founded on the tenets of superior craftsmanship, environmentally friendly manufacturing, and creative design. In their workshop in Snow Road Station, Ontario, they only use materials made in Canada.
13. Allegorie
Allegorie creates fashionable, eco-friendly backpacks from recycled plants and fruit. You read that correctly; Women run and own this business, and they are doing a tremendous amount to change the world in addition to producing eco-friendly handbags.
You may pick the color of the cloth inside their Gala backpacks, which come in black and dusty rose. Each of them features numerous pockets, a separate laptop sleeve, and additional cushioning to safeguard both your back and the bag. It is just what you need whether you are going on a train or hiking.
Backpacks and apples aren't just for back-to-school time, as the saying goes. Allegorie incorporates a variety of biodegradable and sustainable materials into its collections, including cacti, mangoes, and apples.
They find and gather fruits that growers and supermarkets waste, then transform them into one-of-a-kind creations. Mangoes are a rich source of natural fibers that can be used to create elastic and long-lasting fabrics. To create sheets that can be utilized to create the bags, they are first shredded down.
All of their manufacturing partners adhere to tight regulations to lessen their emissions. They go above and above to ensure that their artisans and workers are treated properly, have a safe working environment, and have a consistent schedule of hours.
All of their factories adhere to tight regulations to minimize their environmental impact, including zero emissions of dangerous chemicals, using green energy, and using no water at all.
Tips to consider when choosing sustainable backpacks
1. Choose one that is durable
In actuality, a backpack's numerous components make recycling them challenging. This indicates that most of them are discarded, 
When an object doesn't need to be replaced, less will go to waste, and mass consumption isn't supported. 
There are also other factors besides materials that go into creating a backpack, such as water, chemicals, and transportation emissions. This is why you'll need a sturdy backpack that can last you a very long time before it degrades. 
2. Make sure the backpack is manufactured ethically
When it comes to selecting an eco-friendly backpack, how it is created and who makes it really matters a lot. Were its makers paid a decent wage? How are they handled at work? All of these are good things to ask before purchasing any goods. 
Fair living pay and the humane treatment of employees are requirements that cannot be compromised. It's terrible that this must be considered when purchasing a bag, but you'd be surprised at how many companies need cheap labor to keep up with demand.
Always make sure to patronize companies that provide safe working conditions and fair pay. When selecting a school backpack, seek companies who are fair trade certified, work with artisans who safeguard delicate cultural heritages, and reveal the location of their factories.
3. Ensure that they are made using recycled or sustainable materials
The majority of backpacks are constructed from a variety of materials at once. Almost always, they are brand-new materials that use more energy to produce and deplete natural resources to obtain except when recycled.
Go for bags made of recycled materials, organic cotton canvas, locally produced leather that has been vegetable-tanned, and banana fiber. These materials have the potential to be renewable, biodegradable, non-toxic, and considerably less harmful to the environment by reducing waste. They are frequently of greater quality and durability as well.
4. Look out for Water-repellent/PFAS-Free eco materials
Polyfluoroalkyl substances (PFAS), which are synthetic compounds, are frequently used to treat backpacks and other performance clothing in order to make them water-resistant. However, the issue is that these compounds never degrade or disappear. 
They can enter our water systems after being cleansed, poisoning wildlife and even our bodies. Numerous human dangers, including cancer, miscarriage, infertility, hormone disturbance, and obesity, have been associated with PFAS.
Final words
When selecting environmentally friendly and sustainable backpacks, it's essential to consider the company's overall practices. It won't do to provide just one eco-friendly backpack that is either plastic free or chemical-free among the quick fashion options.
Because there is so much greenwashing in this industry, it is more crucial than ever to look for businesses that have certification, such as a B Corp, or that use third-party certification to guarantee that what they are promoting is real. 
Latest posts by Ogbo Godfrey
(see all)